Eccentric Martin Brothers Pottery Still Catching the Eye of Modern Collectors
The Martin Brothers manufactured pottery in London between 1873 and the early 20th century. The four brothers – Wallace, Charles, Walter and Edwin Martin – were pioneers in art pottery, but today, Martinware is considered studio pottery.
The brothers produced a very distinct type of salt glazed stoneware until their studio closed in 1914. Robert Wallace Martin continued to produce some pieces of pottery until his death in 1923.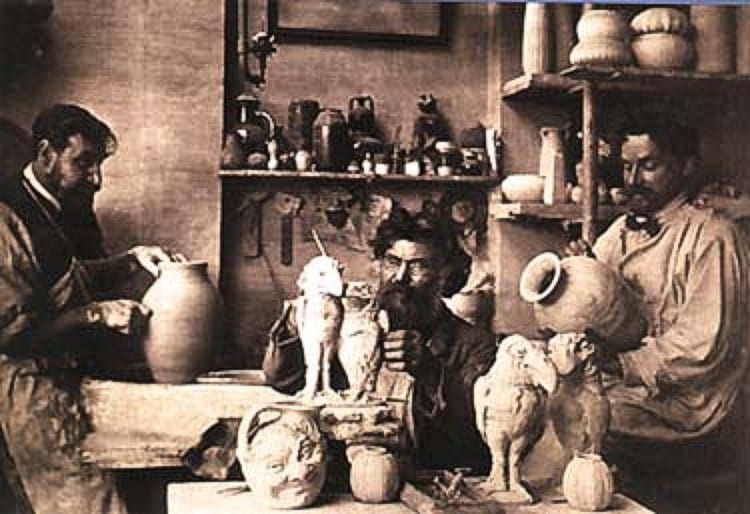 Edwin and Charles had two distinctive roles: thrower and decorator, and shop manager respectively. Edwin was responsible for most of the flower and fish designs. Walter provided the technical expertise. He specialized in colored glazes, and he became the wheel specialist.
The eldest brother, Robert Wallace Martin, worked for a while under architectural sculptor J.B. Phillips. Later, he took art classes at Lambeth School of Art nearby. Edwin and Martin also studied here, and they both worked for Royal Doulton Pottery in Lambeth.

Do not miss:
Wares and Techniques
Martin Brothers stoneware included both vessels and figures. They were arguably best known for their bird sculptures, whimsical tiles and vessels adorned with sea creatures.
Nicknamed Wally Birds, the brothers' bird sculptures weren't representative of any particular species of birds.
Martin Brothers Wally Birds had very large talons, exaggerated beaks and fierce eyes. Wally Bird jar heads typically lifted off to reveal a space for storing pipe tobacco.
The four brothers created avant-garde ceramic characters and animals, which were sold as spoon-warmers, mugs, jars, jugs and vases.
The brothers worked primarily with saltglaze stoneware. With this technique, the pottery is fired at a high temperature, and salt is thrown into the kiln to create a ceramic glaze. When fused with the clay, the glaze can create a glossy or matt surface, depending on the conditions of the firing.
The beauty of saltglaze is that it brings out beautiful colors of greys, greens, blues and browns, and these colors are very distinctive of Martinware and their animal sculpture art.
The biggest issue for the Martin Brothers is that they were only able to fire the kiln once a year and without protective saggars. This meant that every pot put in the kiln came into direct contact with the flames.
The results were unpredictable, but that's what makes Martinware so unique.
Between 1880 and 1900, Martinware produced flamboyant designs. After this time period, their sculpture art was simplified under the influence of Japonism and Art Nouveau.
Martin Brothers Pottery is Still Popular with Collectors
Martinware's eccentric designs are what attract collectors. The renewed interest really started in 1978 when Richard Dennis, a dealer in London, organized an exhibition at Sotheby's Belgravia. Another big exhibition took place in New York in 1981.
Today, Martinware can still be found in ceramic museum collections, but it's especially popular with collectors. In fact, in 2015, a record was set when a 14" Wally Bird jar sold at auction for $196,000. That particular jar was produced in 1889 and was believed to be one of the few pieces caricaturing Benjamin Disraeli.
The previous record was in 2014 when a bird jar sold for £75,000.