Why Did Picasso's Paintings Have Distorted Faces?
Why Did Picasso's Paintings Have Distorted Faces?
Picasso is arguably most famous for his paintings of distorted faces. But what many people don't realize is that this genius of an artist created more than 1,800 paintings throughout his lifetime. His painting style changed constantly throughout his career, including realism. Just take a look at the old fisherman, which Picasso painted at the age of 14, and you'll quickly realize the depth and breadth of this iconic artist's talent.
Still, many art lovers are fascinated by Picasso's unusual distorted art style, known as cubism. Why did he paint portraits this way?
A History of Caricatures


There are 

some who speculate

 that Picasso's style of painting distorted faces is rooted in his history of practicing caricature. As a young boy in the 1890s, Picasso would make quick sketches of his friends on torn bits of paper bags and in margins of his textbooks. He doodled his art school classmates while in college. Later, he would make these same sketches of dealers, patrons and friends. As it turned out, he had a knack for exaggeration. And that knack would help him develop his famous cubism style. 



"There are so many realities that in trying to encompass them all one ends in darkness," Picasso once said. "That is why, when one paints a portrait, one must stop somewhere, in sort of a caricature."
The Life and Times of Picasso
Artists are often born of pain, and Picasso, one of the greatest artists of all time, is no exception. His experiences, good and bad, would shape his famous distorted-faces style and influence his later works.
Born in 1889, Picasso lived through some of the worst times in modern history. He survived the Spanish civil war, and lived in France during the Nazi's occupation. Many speculate that these challenging and tragic events helped develop his style of painting distorted faces.



"A head is a matter of eyes, nose, mouth, which can be distributed in any way you like," Picasso said.


Early works by Picasso show off his talent in realism, but as he began facing these difficult and challenging world events, his style changed.





In the early 1900s, Picasso was a major player in one of the most influential art movements of the early 20th century: cubism. Picasso was reportedly inspired by African tribal masks. 



The painting Guernica, created during the Spanish Civil War, would be the work that changed his life. And in this painting, we see his use of distorted faces. The painting was commissioned by the Spanish Republic for the pavilion at the Paris International Exposition of 1937. Picasso was inspired by the bombing of a small town in Basque.



The painting portrays a frenzied mix of six human figures, a bull and a horse; all of which are housed in a long-ceiling interior. While Picasso never spoke on the symbolism of the figure and objects, much of the painting can be taken at face value. 





The mural-sized painting now resides at Madrid's Museo Nacional Centro de Arte Reina Sofia.




 
Prior to Guernica, Picasso had been experimenting with art since the mid-20's. His work initially featured interior rooms with musical instruments and fruits; things of pleasure. Soon, the rooms would become claustrophobic, with darker themes. The shift occurred right around the World War I recovery efforts, in the years just before the stock market crash that triggered the Great Depression. It was during this period that Picasso began to look at the darker side of the human psyche. 
 Life experiences are one explanation for Picasso's distorted faces, but others believe there's a much simpler explanation. Some say Picasso's distorted faces are merely his way of showing the audience how he views a person, or his attempt at portraying the person from every possible angle at once.  It could be that Picasso was trying to capture the sitter's emotions, thoughts and struggles in one single painting. Rather than focusing on realism, his goal is to make the viewer feel what the sitter is feeling; something Picasso excelled at.  It's impossible to know for sure the real reason behind Picasso's unique style. But even if he were here to ask, it's doubtful he'd provide a straight answer. After all, art is open to interpretation. 

Picasso Famous Paintings
When we ask about Pablo Picasso a lot of people answer about his involvement with cubism. However they are not able to provide the names of his famous paintings. Therefore we have decided to include information about Pablo Picasso most famous paintings.
Guernica: Painted in 1937 and still considered today one of the most powerful political statements out there.  This painting is the expression agains the Nazi regime and the bombing of Guernica during Spanish Civil War.  A representation of the pain and how a war can damage us all. Picasso declared that the horse in the painting represented Guernica as opossed to the Minotar which represented darkness and brutality associaited with Fascism.  Also the painting is almost 8m long.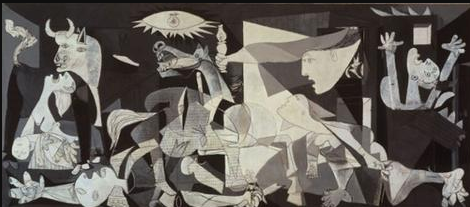 Les Demoiselles d'Avignon: This piece is considered one of the most classic examples from Cubism. The portrayal of female beauty was challenged by using geometric forms in an unexpeted way. The dimensiones are 244 by 233 and took Picasso almost  9 months to complete it. Instead of showing it to the world, he decided to keep it hidden on his Parisian studios due to the harsh critics from his closest friends.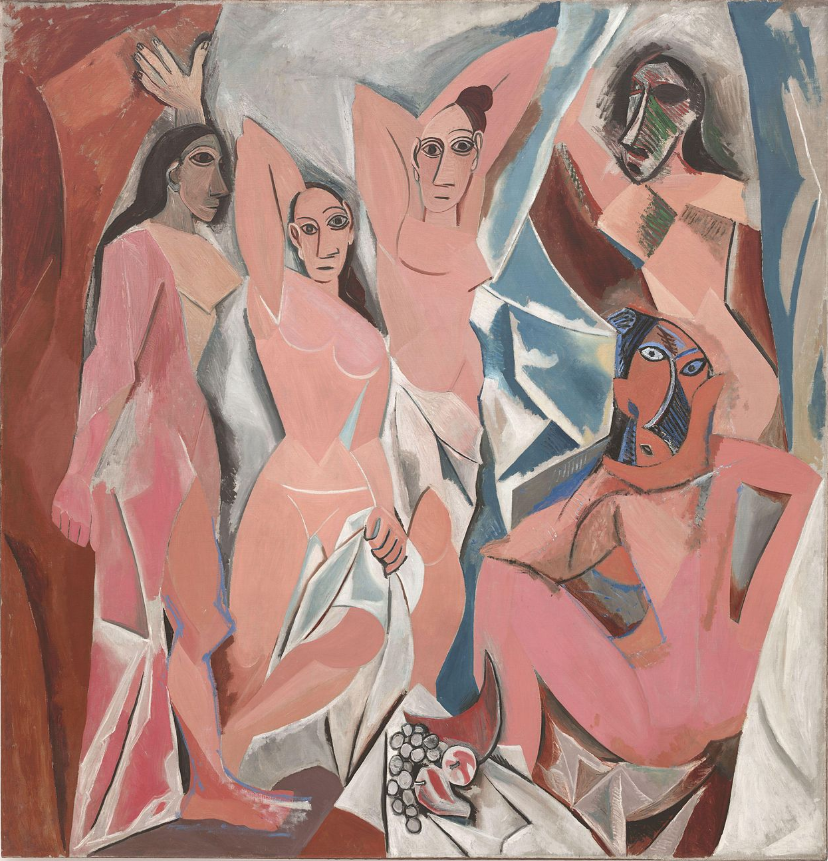 The Weeping Woman:
The Dream:
The Old Guitarist:
3 Musicians:
Girl before a Mirror:
If you want to know more about J. Tange art, please visit our online gallery: https://voluptart.org/shop/page/12/