Mexicaans eten: wat is écht Mexicaans eten?
Wanneer mensen aan de Mexicaanse keuken denken dan zal chili con carne het eerste gerecht zijn in wat ze opkomt. Echter is dit gerecht helemaal niet Mexicaans, dit is echt een grote mythe. Om je wat meer over de Mexicaanse keuken te laten zien hebben we in dit artikel de bekendste Mexicaanse gerechten voor je op een rijtje gezet. Door zelf aan de haal te gaan met deze Mexicaanse recepten weet je zeker dat je heerlijk kunt eten!

Chilaquiles
Van alle Mexicaanse gerechten is dit misschien wel onze favoriet. Deze populaire traditionele ontbijtschotel is gemaakt van licht gebakken maïstortilla's die in vieren zijn gesneden en bedekt zijn met groene of rode salsa. Roerei of gebakken eieren en getrokken kip worden meestal toegevoegd, dit geldt ook voor kaas en room. Chilaquiles worden vaak geserveerd met een gezonde dosis frijoles , dit zijn heerlijke gekoelde bonen. Een prima ontbijt als je de dag goed wilt beginnen!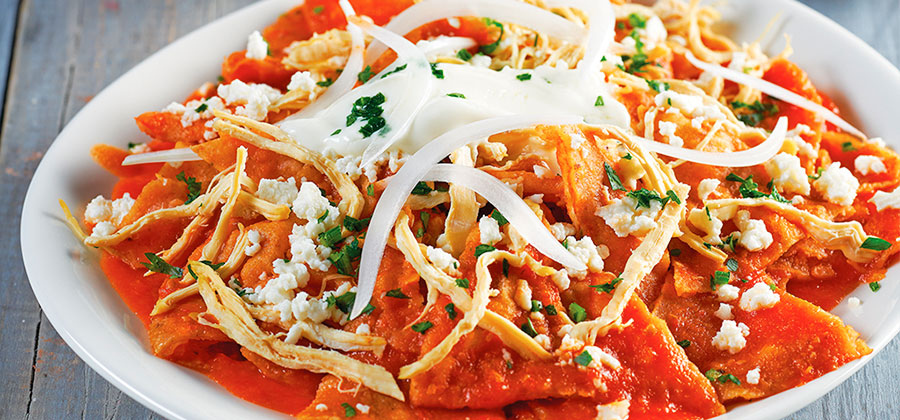 Tacos al pastor

Dit historische gerecht is een van de meest populaire soorten taco's. Het is een Mexicaans gerecht wat teruggaat tot de jaren '20 en '30 door de komst van Libanese en Syrische immigranten in Mexico. Om taco's al pastor te maken (dit betekent 'in de stijl van de herder') worden dunne reepjes varkensvlees van een spit gesneden, op een maïstortilla gelegd en geserveerd met uien, korianderblaadjes en ananas. Een prima gerecht wat echt symbool staat voor de Mexicaanse keuken.

Chiles en nogada

De drie kleuren van de Mexicaanse vlag zijn in chiles en nogada goed terug te vinden. Dit is nog altijd een van de meest heerlijke Mexicaanse gerechten die je zelf kunt maken. Poblano pepers gevuld met picadillo (een mengsel van gehakt vlees, fruit en kruiden) vertegenwoordigen het groen op de vlag, de walnoot-roomsaus is de witte en granaatappelpitten zijn de rode. Het gerecht werd voor het eerst geserveerd aan Don Agustin de Iturbide. Zoals je misschien wel weet is dit de keizer van Mexico geworden.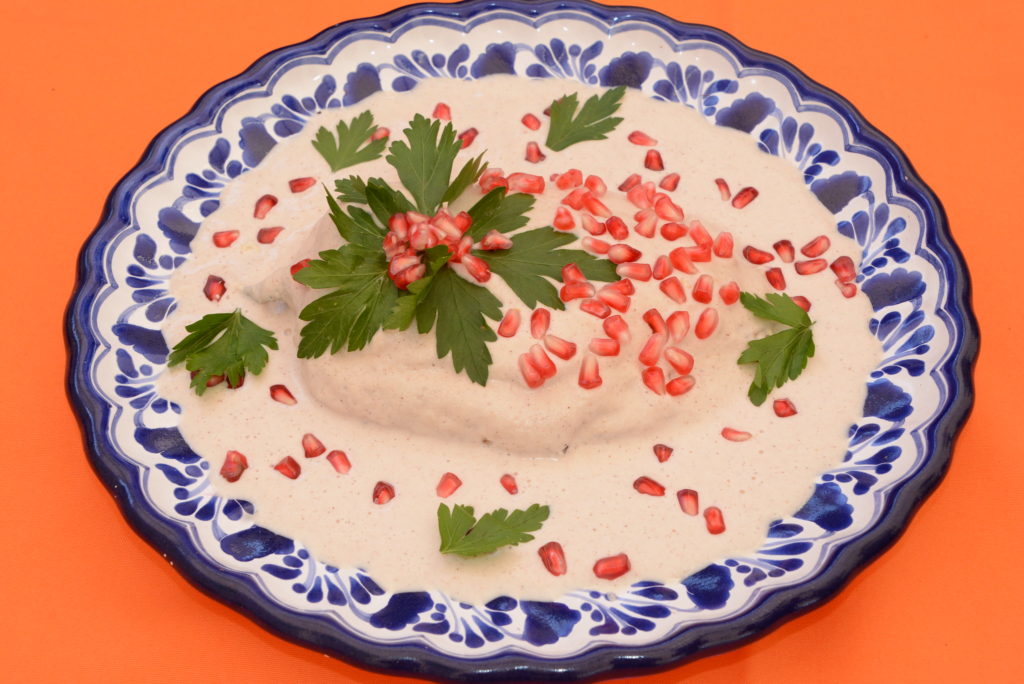 Enchiladas

Enchilada's dateren uit de Maya-tijd, toen de mensen in de Mexicaanse Vallei maïs tortilla's aten die om kleine visjes heen gewikkeld waren. Tegenwoordig worden zowel mais- als meeltortilla's gebruikt. Vaak zijn ze gevuld met vlees, kaas, zeevruchten, bonen, groenten of andere lekkere dingen. De gevulde tortilla's worden altijd geserveerd chilisaus, dit maakt het een heerlijk Mexicaans ontbijt. Van alle Mexicaanse gerechten is dit een van de meest eenvoudige om zelf te maken.

Guacamole

Guacamole is ongetwijfeld een van de populairste gerechten uit de Mexicaanse keuken, maar weinig mensen weten dat deze traditionele saus uit de tijd van de Azteken stamt. Dit gerecht wordt gemaakt van gemalen avocado's, uien, tomaten, citroensap en chilipepers en soms een teentje knoflook. De guacamole wordt gegeten als dip voor tortillachips of als tussendoortje. Een heerlijk Mexicaans gerecht wat ook nog eens eenvoudig is om te maken. Dit maakt het een prima optie als je zelf de Mexicaanse keuken wel wilt ontdekken.