Bees have not been forgotten, at least in the south of Holland. A toast to them was made!
Yesterday was a very memorable day for the bees of the world. For the first time ever a honey based cocktail was produced and presented during the Final Competition of "World's best Bartender". Helder Fortes Silva together with BeeSerious decided it was time to make a cocktail with meaning, and that's exactly what they delivered.

Classic cocktails will be shaking in their boots with this new player in town. The judges of the  World Class Competition   were greatly impressed by what Helder brought to the game. The recipe went beyond pollen and nectar. We are sure that the new version of Colony-Cocktail will become an integral addition to any cocktail recipe book. 

For one moment let's put aside all of our thoughts on soda water, ginger beer, orange juice, dry vermouth, orange liqueur and crushed ice. The major game changer in the industry is the idea to bring a product in that has a significant story behind it. A story that concerns all humanity, the story of - the bees. Let's not forget that the bees were named the most important species on the planet. 


If you would like to know more about this amazing project we invite you to visit BeeSerious and to support Helder's amazing work.
We have seen what this amazing group of people from Schiedam (South of the Netherlands) are doing for the planet. But has the Art World taken any stand on this important matter?

The ArtWorld

Although, there is not a specific art movement that we are referring to, we can see that the art of today has some beautiful artworks with the idea of the Bee's preservation behind. The first one that comes to mind is Louis Masai Michel who is a well known UK street artist. His artworks focus on creating awareness of endangered animals. 
Urban Art: The Art of Beeing

When touring the U.S., Masai started with this mural art project. There we can see how he is trying to show that the bees are linked to all the species.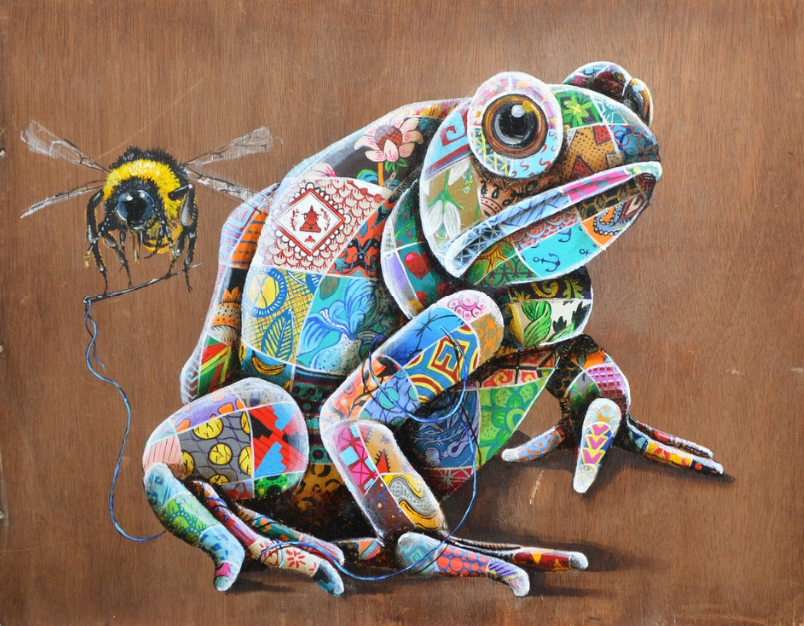 Installation Art: Tim Tate

Tim Tate provide us a piece which is a whole experience. The piece of 2015 is a cast glass and a video. The artwork wants to give the viewer the experience of being a beekeeper.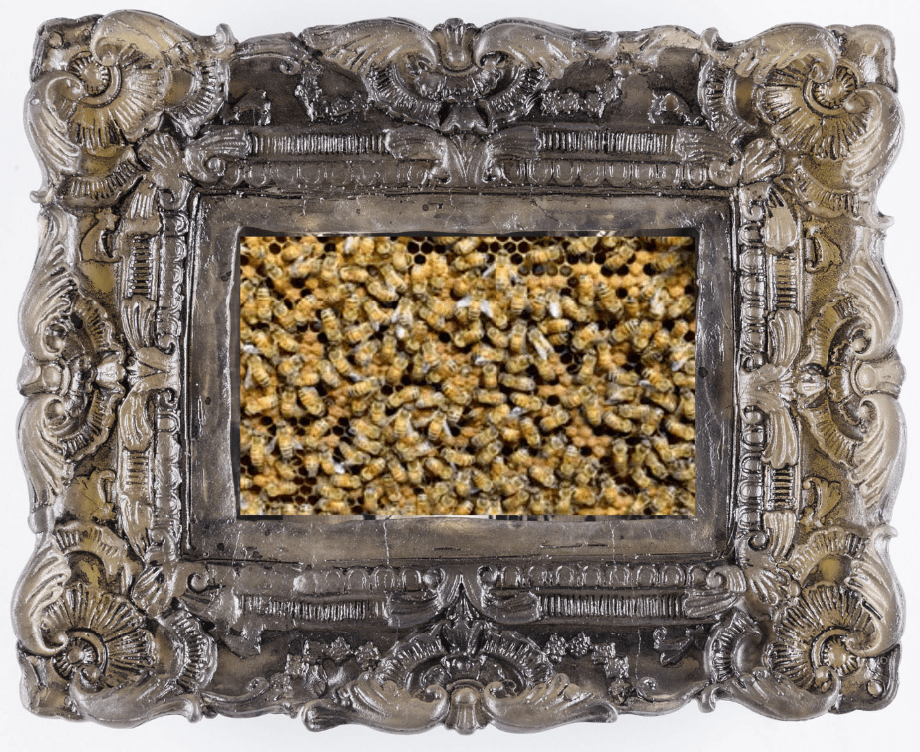 For more information about the Artwork check the Seager Gray Gallery site. 
Not so modern art, not conceptual art

If you are looking for more traditional oil paintings with bees, may be Louisa Chase, the American neo-expressionist painter would be the one to look for.  In 2010 she launched her collection Tribute.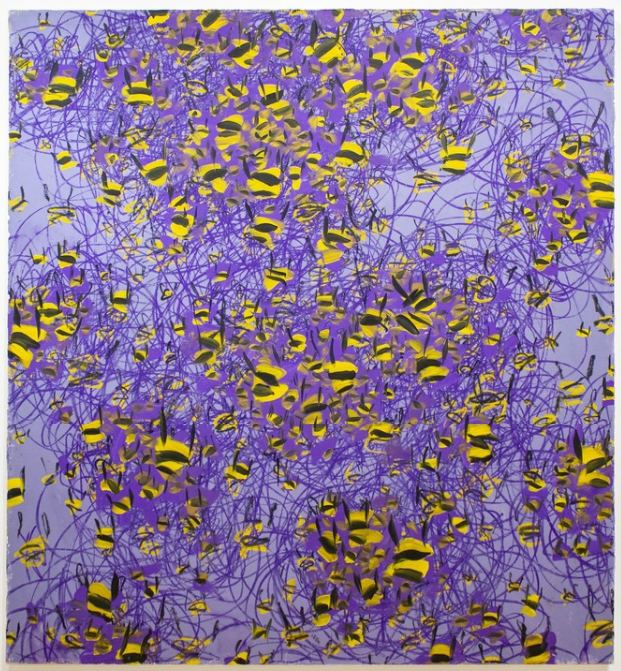 There you can see this colorful oil on canvas of 175.3 x 160 cm. Despite being born in Panama she currently lives in New York city. So if you are in the area do not miss out any of her exhibitions.  If you are interested on her work then you should contact  Hirschl and Adler Galleries. 

ZMK is not so simple as syrup

If there is someone bringing always new concepts and pieces to the table is ZMK. The rebellious artist has a goal to break the limits of impositions in both abstract and physical forms.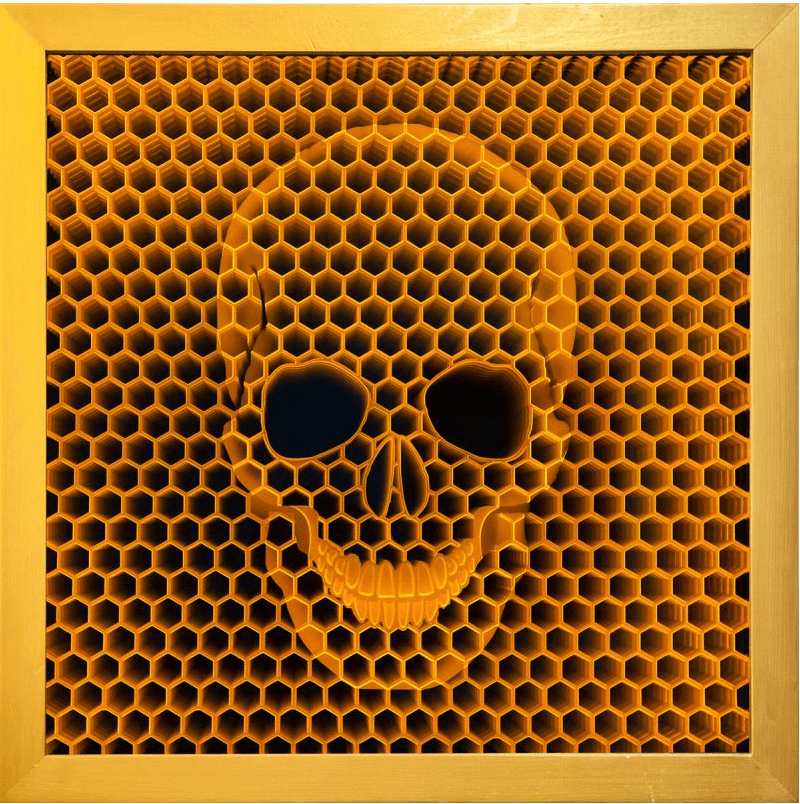 With his 76 by 76 cm artwork "If Bees Die We Die" the reality of a future without bees is shown… This etched glass with led lights provides all the dramatic gestures needed.   Zac Knudson is a pretty well known name in South Florida and his works are part of important Art Fairs in Miami. 
Mixed-media art: Like floating on Egg White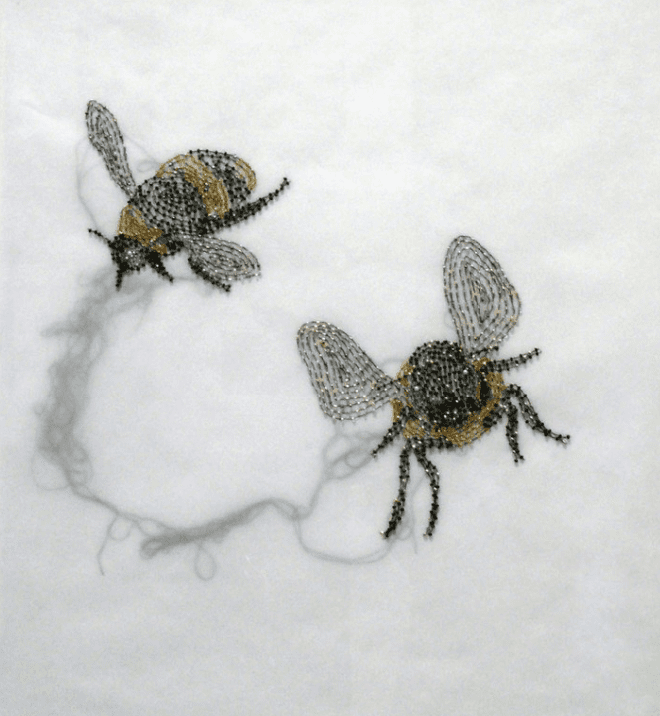 If you are more into mixed-media Art the art of Rob Wynne might interest you. With his 61x47 cm piece entitled Two Bees we can judge how Wynne tests the boundaries between Kistch and Beauty.  This specific piece is promoted in New York by Vivian Horan Fine Art. 
The beekeeper artist: Kelly Heaton

Living in North Carolina, Kelly Heaton made a statement as she fusioned photography, sculpture, painting, botany and honey based products.  

Artsy featured Heaton's effort on their editorial. A full article was written about her and the importance of the show. 
A lot of work needs to be done

If something is certain is that our duty to the bees is far from being covered. Have you asked yourself recently: What have you done to help the bees and avoid the Colony Collapse Disorder?  Contact Bee serious if you want to adopt a Colony or if you want to promote a drink that has a story.