A Peek at Leonardo DiCaprio's Impressive Art Collection
Leonardo DiCaprio is known for his roles in high-grossing films like Titanic, The Departed and The Great Gatsby, but the Academy Award-winning actor also boasts an impressive art collection.
He has become a regular at Art Basel and an auction fixture. DiCaprio is often spotted at major sales wearing casual clothes. You will find him dressed in a baseball cap and jeans. He may not take the politics of all too seriously, but he takes his collection seriously.
In 2013, he orchestrated an auction with Christie's to help raise money for climate change awareness. He walked away with a Takashi Murakami painting. His collection includes works from Ed Ruscha and Jean-Michel Basquiat. He grew up surrounded by the work of Robert Crumb and Robert Williams, as his father was an underground comic salesman.
DiCaprio is a regular at Art Basel, arguably the biggest show in the art industry. We've heard tales of serious collectors dressing up as maintenance guys just to get a sneak peek of the show and know where the hot potatoes were. While he (probably) didn't sink to that level, he did walk away with the 1973 Frank Stella piece Double Gray Scramble at the 2015 show in Miami.
Other works in his collection include:
*Pablo Picasso drawing Fillette from 1939,
*Oscar Murillo's Untitled (Drawings off the wall),
*Heinz Schulz-Neudamm's "Metropolis."
Blame it on Da Vinci
It's no surprise that DiCaprio is a patron of the arts. It was in the Uffizi standing in front of Da Vinci's work that DiCaprio's parents decided to name him Leonardo. In his documentary, The Flood, he spoke of the work The Garden of Earthly Delights by Hieronymus Bosch, which hung above his crib. DiCaprio said the painting was his first memory.
https://www.instagram.com/p/BUACBGiA2xg/
Jurassic Park fan
Along with his impressive art collection, DiCaprio has collections of rare books and fossils, including the skull of a Torvosaurus. The natural history museum was one of his favorite places to hang out as a child, where he questioned why and how the animals on display went extinct. Most of the fossils in his collection are of predatory dinosaurs.
But ultimately, it's the actor's love of art that has triumphed. His collection has grown exponentially since his acquisition of a Basquiat drawing, one of his first major art purchases.
Leonardo DiCaprio has swiftly become one of the most prolific art collectors in the world since then, which goes to show you that it is never too late to start investing in art.
Leonardo DiCaprio painting
It is clear the influence that Di Caprio has in the Art Market. His serious collector skills are respected by art critics and art galleries. But what about artists? Are they impressed by this promising actor?
Is there such a thing as a Leonardo DiCaprio painting? I am sure that more than one artist has been moved by his impressive skills and his philantropy. 

If we visit the site of Artsy a power Art house. The only artworks related to the actor are photographies taken by David LaChapelle, Patrick Demarchelier and by Greg Gorman. But I am sure if we take a look in sites where starting and amateur painters have their artwork we will be seeing a lot of DiCaprio's tributes as part of fan Art.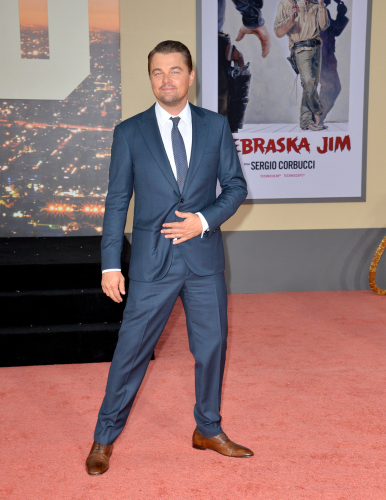 Leonardo DiCaprio art calling.
In case you have a doubt about DiCaprio's serious behaviour towards Art. He has recently produced in Netflix a show about an eccentric artist. If you are curious about it look for The Life and Lost Art of Szukalski.
The show has received a lot of positive reviews and there we can see how much he cares to explain an artist point of view and the sensibility needed to connect with it.
If you are a fan of DiCaprio and you also enjoy art then take a look. Let us know what you think.