How the Art World joins 4th of July Celebration
Today, 4th of July, America celebrates their independence. It was a day like today in 1776 where they signed their Declaration of Independence. It was when the Continental Congress declared that their initial thirteen American colonies were no longer subject to the monarc of Britain.
This days carries a heavy historial significance. Three presidents of the United States died on the fourth. Thomas Jeffesron, John Adams died hours apart. 
Americans around the world gather and celebrate this day together. Inside the States the favorite dishes to be consumed today are hotdogs and chicken. In fact, it is believe that today 150 millions of hotdogs and about 700 millions of pounds of are chicken are eaten.
New Traditions
Aside of consuming an insane amount of hot dogs, fireworks are a big part of the celebration. According to ACEI global  "The U.S. imported $227.3 million worth of fireworks from China in 2012. U.S. exports of fireworks, by comparison, came to just $11.7 million in 2012, with Israel purchasing more than any other country ($2.5 million)."
But how does the Art has joined the fourth of july celebration?
You might think that a figure such an Andy Warhol created a masterpiece related to this day. But on his archive the only artwork is this black and white piece.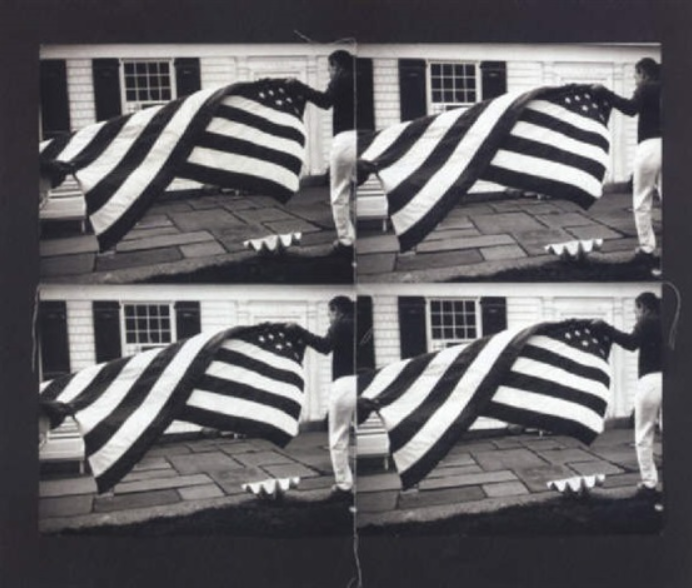 Oher artists and their take on Fourth of July.
Calesini USA bike represented by Galeria CA d'Oro New York

Mark Andrew Allen Flag Americana 2 represented by 57 Projects

American Pride by Jeremy Dean

Ronnie Cutrone, American Artist, print sold by Gallery Art

Alexis Rockman, Raising the Flag represented by Carolina Nitsch Contemporary Art

Jacques Tange 4th of July available in our online store.
If you enjoyed any of the artworks. We will remind you that you can buy original artwork from diverse sites. You have to check sites such as Artfinder or ArtMajeur. An original artwork for sale is ready for you, it doesn't matter if you fancy Retna, Paul Klee or Jean Michel Basquiat.  The visual arts world is a never ending one.