Barbara Kruger – conceptual artist
Who Is Barbara Kruger?
Born in Newark on January 26th in 1945, Barbara Kruger grew up I a lower- middle class Jewish household and then went on to attend Syracuse University and the School of Visual Arts before studying at and design at Parson's school of design in New York. Although having never finished her fine art degree Kruger still managed to nab a design job at Condé Nast and following her work with Mademoiselle Magazine she quickly moved up the ranks to become head designer. An influential feminist of the 1960's era, her early career path influenced the style her art would eventually take. Kruger drew inspiration from movements including second wave feminism.
The inspiration for her work
Barbara was inspired by the works of photomontage artists such as Magdalena Abakanowicz, John Heartfield and Hannah Höch all of whom created antifascist and feminist work pre WWII. Kruger's background in design is evident in the work for which she is now internationally renowned. She layers found photographs from existing sources with pithy and aggressive text that involves the viewer in the struggle for power and control that her captions speak to. Her works examine stereotypes and the behaviours of consumerism with text layered over mass-media images. One such piece is her 1989 work (Your body is a battleground) in which an oversized image of a model's face is divided into sections with the phrase – ''Your body is a battleground'' placed across the image. This piece raised the issue of women's reproductive rights and called into question the objectification of women at that time. Kruger sought to question the way in which mass media portrays women and the female identity. This work of art was instrumental in the prompting of a march on Washington for women's reproductive rights.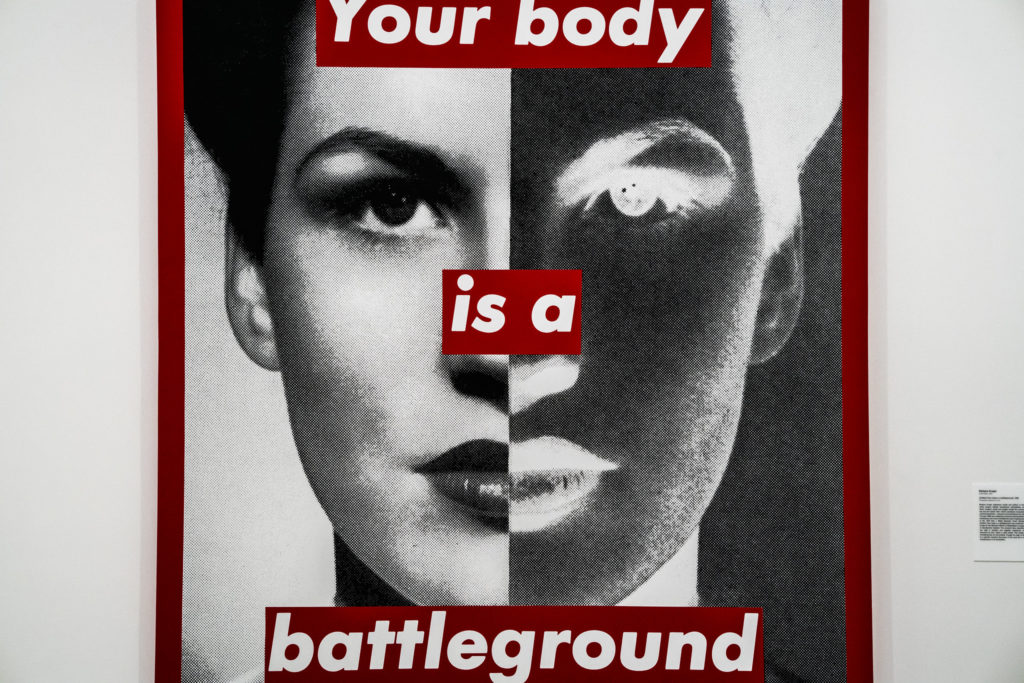 Yayoi kusama: entre la obsesión, el arte y los lunares

Yayoi Kusama es una de las artistas actuales más importantes de todo el mundo. Sus obras llenas de lunares y patrones se han convertido en un clásico del arte contemporáneo. Kusama sufre de Trastorno Obsesivo Compulsivo desde muy pequeña y […]
Kruger's art style
Stemming from her background in design for magazines Barbara's artwork utilises imagery from advertising. The pop artist is best known for her large works in alternating white-on-red or white-on-black patterns, created in the font Futura Bold Oblique or Helvetica Ultra Condensed. Much of her work places white Futura Bold italic font in a red box atop a pre-existing image, often from advertising, as a seemingly obvious critique of the image, but which is significantly more complex. For example, Kruger's now famous piece shows a black and white hand holding an overlaid red box featuring the phrase, "I shop therefore I am" in Kruger's signature style. The boldness of the red text on the white background reminds us ostensibly of a very simple and generic advertisement, the choice of colours is, upon closer consideration very specific, potentially referencing Coca-Cola, or Russian Constructivist posters and perhaps even communism itself. Kruger has remained faithful to her own format in an age of political division and sloganeering. Her work was exhibited at the prestigious Whitney Biennial in 1973. In the fall of 1976, she went to teach at the University of California, Berkeley, and shortly thereafter turned to collage, reviving the skills that she'd honed as an ad designer. In 1981, Kruger's art also appeared in a group show titled "Public Address". There, she débuted her now iconic style: white Futura text in red boxes.
So who owns supreme?
Back in 1994 a new skater brand shop named ''Supreme'', an idea thought up by James Jebbia used Barbara Kruger's styling in the logo which is a familiar white-on-red "Supreme" in Futura Bold Oblique font, in italics. He stated that he just thought 'it was a really cool name for a shop' and that there were no skate shops around. However, it is interesting to note that one of Barbara's main influences constructivism, borrowed ideas from another Russian style Suprematism created by Kazimar Malevich. So who owns supreme?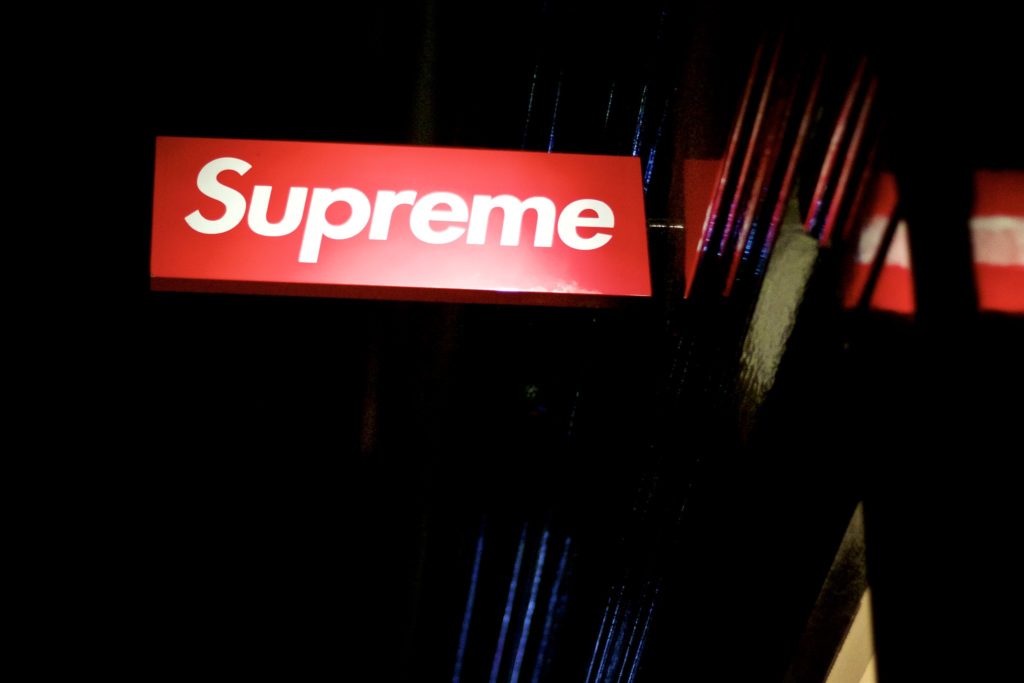 The line between theft of designs and being influences or inspired by the work of others is a very thin one. When you look up appropriation, it is defined as the ''action of taking something for one's own use, usually without the owner's permission''. We have all used media from google from time to time without properly crediting the owner, this is a rectifiable mistake, however when you appropriate an artist's designs over a long period of time to create a fashion brand, perhaps this crosses that line. Kruger is often praised for her witty critism of capitalism and the patriarchy through employing graphic design and collages as seen in one of her most notable works ''I shop therefore I am'' which shines a light on what is an increasingly capitalistic and profit orientated society. Kruger remained silent on Supremes' use of her artistic construct until a lawsuit in 2013 whereby a lawsuit was filed against streetwear brand Married to the Mob on behalf of Supreme over it use of their logo and styling.
Upon learning of this lawsuit Kruger's response was ''what a ridiculous clusterfuck of totally uncool jokers, I make my work about this sadly foolish farce. I'm waiting for all of them to sue me for copyright infringement. – Barbara Kruger.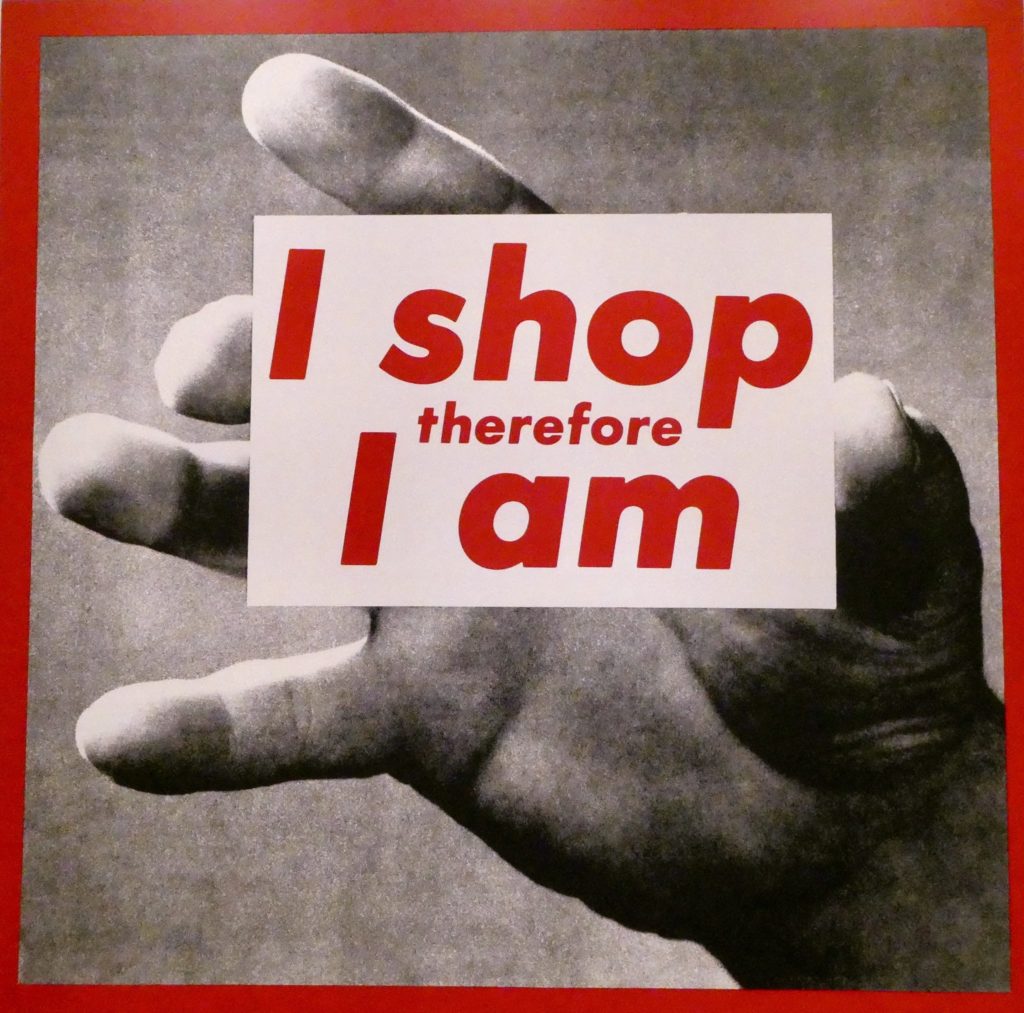 Where is Barbara now?
Kruger, now 72 lives and works in both New York and Los Angeles (where, since 2006, she has taught art at UCLA). In 1982 she represented the United States at the Venice Biennale and again participated in 2005, when she received the Leone d'Oro for lifetime achievement. In recent years as well as appearing in museums and galleries worldwide, Kruger's work has shown up billboards, metro cards, posters, a public park, a train station platform in Strasbourg, France, and in other public commissions. If you would like to own a piece of this talented artists work, you can purchase it at Sotheby's, and Christies art auction houses.
Her work is on display in major museum collections worldwide, including the Institute of Contemporary Arts, London; Solomon R. Guggenheim Museum, New York; Museum of Contemporary Art, Los Angelos; Metropolitan Museum of Art, New York; Tate Modern, London; Museum of Fine Arts, Boston; Museum of Modern Art, New York; and Los Angelos County Museum of Art, Los Angelos.