Huatulco, Mexico – Former Pirate Haven Turned Tourist Destination
When people think of Mexico, the cities of Cancun, Cozumel, Puerto Vallarta and Cabo San Lucas usually come to mind. But Huatulco offers travelers an eco-friendly destination that doesn't sacrifice on the luxuries you come to expect when visiting Mexico.
Known as tourist development, Huatulco is a tourist development in the town of La Crucecita in Oaxaca. Formally known as Bahias de Huatulco, the tourist development's tourism industry is focused on its nine bays. From luxurious villas, to economy hotels and condominiums, travelers will find a variety of accommodations available.
Offering breathtaking views, Huatulco is situated where the Sierra Madre del Sur mountains meet the Pacific Ocean. Thirty-six beaches dot the coasts of the nine islands, with golden sands and turquoise waters.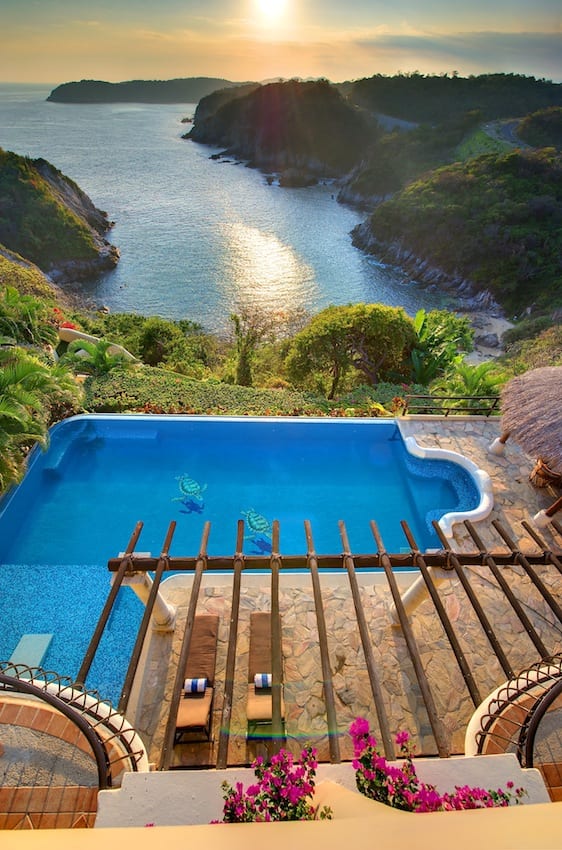 The History of Huatulco
Legend says Huatulco was ransacked by pirates while under Spanish rule. The one thing they didn't steal? Huatulco's beauty (cheesy, I know).
Once a successful commercial port, the area was a favorite of pirates and navigates during the Elizabethan era. Sir Francis Drake and Sir Thomas Cavendish were said to have visited Huatulco.
Unspoiled Beauty
Spanning 20 miles of Mexico's coast, Huatulco offers relaxation and respite from the stresses of everyday life. While exploring the nine bays, you'll find numerous coves, inlets and hidden beaches that have been virtually untouched and unspoiled. Some bays are only accessible by boat.
Luxurious accommodations are not in short supply. At Las Palmas Huatulco, you can spend your days relaxing in an oceanfront villa just steps from the bay's waters. In a resort where Dutch artist Jacques Tange's work hangs on the walls, this elegant resort is one of the top-rated accommodations in the area.
Whether you enjoy wind surfing, jet-skiing, snorkeling or relaxing on the beach, Huatulco offers something for everyone. And with nine bays to explore, a new adventure is around every corner.