Bel-Air 2022: The Reboot That Puts Art at the Center Stage
It's been more than three decades since The Fresh Prince of Bel-Air graced the small screen. But in 2022, this beloved sitcom returns – and with a more serious tone.
The Bel-Air reboot started as a mock trailer, created by Kansas City native and independent filmmaker Morgan Cooper. The trailer went viral on YouTube.
After millions of views and catching the eye of Will Smith, Peacock picked up Bel-Air for two seasons. Will Smith himself got involved, stating that it was an opportunity for him to share his experiences. The show premiered on super bowl Sunday with three episodes.
The reboot takes a different approach to the original storyline. Cooper reimagined the show as a drama, and it aims to tackle some heavy issues. At the same time, Bel-Air showcases African American cultural art and music.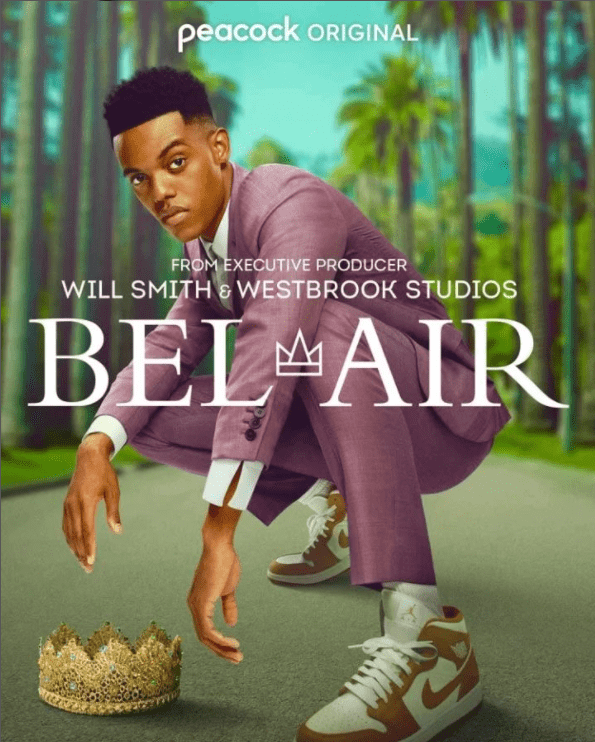 Addressing Important Issues with a Sharper Lens
The original Fresh Prince of Bel-Air has plenty of laughs. It was, after all, a sitcom. But it had its profound moments, too. With longer episodes, Bel-Air has more time to tackle these issues. Thus far, the series has touched on drug abuse, mental health, racism and the interpretation of black identity.
As Will Smith explained in an interview, Bel-Air is able to address another layer that the original sitcom couldn't. Stories can be fleshed out and explored through eight-episode arcs, allowing the show to really dive deep into the issues faced by the black community.
Many aspects of the original show have been kept intact, like the friendships between DJ Jazzy Jeff and Trey. However, one thing fans of the original will notice is that the rivalry between Carlton and Will is a bit more serious. Rather than innocent gags and banter, Carlton's actions are, at times, reprehensible.
Fresh Prince of Bel Air Reboot and the Celebration of Black Artists
Cooper reached out to black artists and creatives in his hometown to accurately portray the look and feel of Bel-Air. It was an opportunity to let local artists shine through the show's production.
Painter Jason Wilcox is one of those artists. Originally, Wilcox was commissioned to create artwork for the Banks mansion. But the show had bigger plans for the artist. Wilcox was then asked to create artwork for Aunt Viv, the artist of the family and wife of iconic character Uncle Phil. Whenever Aunt Viv paints, it's really Wilcox's work that you're seeing.
Kansas City native Jason Wilcox is the artistic talent behind Bel-Air's Aunt Viv. Wilcox developed his artistic vision at an early age, and trained at the Paseo Academy of Fine and Performing Arts. Wilcox's current media includes acrylic, copper, gold, green leaf and silver. His techniques are primarily applied with natural sponges, but he experiments with new media and other application techniques.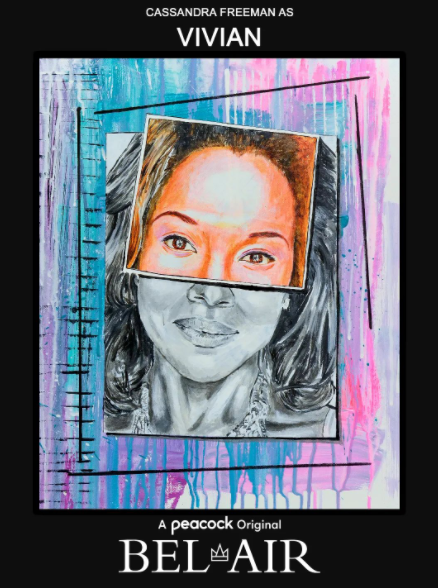 Wilcox's work is a contemporary take on realism, pop art and abstract.
My art tells a story about how I see life. Its beauty, its pain, its struggle and triumph. I create pieces that welcome you to see through your personal lens, while challenging you to consider another perspective

Jason Wilkox
The show features a lot of Kansas City art and African American art in general. Along with fine art, Bel-Air features music from local Kansas City artists, like rapper Amaru Son.
Amaru Son is the voice behind the song "Lost and Found," which is featured in the first episode of the reboot. The Kansas City rapper writes, records, mixes and masters his songs in his home studio. He's been writing and creating music since 2016. Two other tracks from Amaru Son are featured in Bel-Air: "LA" and "MiNi VaN."
The Bel-Air reboot gives Kansas City artists a chance to shine and tackle important issues faced by people of color. Whether it's Aunt Viv's art prints, the music that sets the scene or the home decor in the Banks mansion, the show provides a platform for forgotten voices. We will get to witness the complicated journey from the streets of West Philadelphia to the gated mansions of Bel Air.
---