How my pet hit the spotlight and I didn't?
Sad Reality
It is not that it makes me mad or that I am in direct competition with my pet but being Leo Di Caprio's unfamous friend is a weird feeling to have with my pet.
As I switch between my personal Instagram and the one of my pet it strikes me that whatever it is that my pet has and I seemingly have missed it.  But, if I´m the one who takes the photos , updates the content and spreads the word, why is that success not reflected on my profile?
Media Masters
A way to explain the popularity of our furry friends on the web might be due to the easiness of which we relate to these animal, maybe their dependence on people or their unrelenting love trigger the click, or maybe, more likely, it´s due to our need for a quick, easy endorphin pick me up provided effortlessly  by these cute creatures.
An adorable name or a few photos won't be enough to guarantee our furry friend's stardom.  All the famous pet profiles have constant feeds and a crazy social network behind.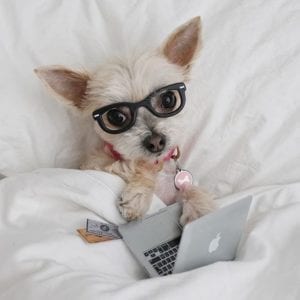 Furry Royalty
Some famous pets out there:
Pumpkin: He shares the spotlight with his owner Sunshine but his posts are more popular than hers. If you are up for a treat and love a dog who looks like a teddy bear, this is your guy to follow.
Ella Bean: With only four pounds this beautiful fashionista has a great fan network. Ella not only has an Instagram account, but also has the time to manage a separate web-page. Who says a dog can´t appreciate Chanel.
Pumpkin the raccoon: This rescued friend shares on Instagram his story and his ongoing adventures with his dog pals, also rescued, Toffee and Oreo.
In conclusion
To be honest, how the hell am I meant to compete with this cuteness?!
Seeing my pet bring happiness to others, is well worth more than a few extra followers on my account.