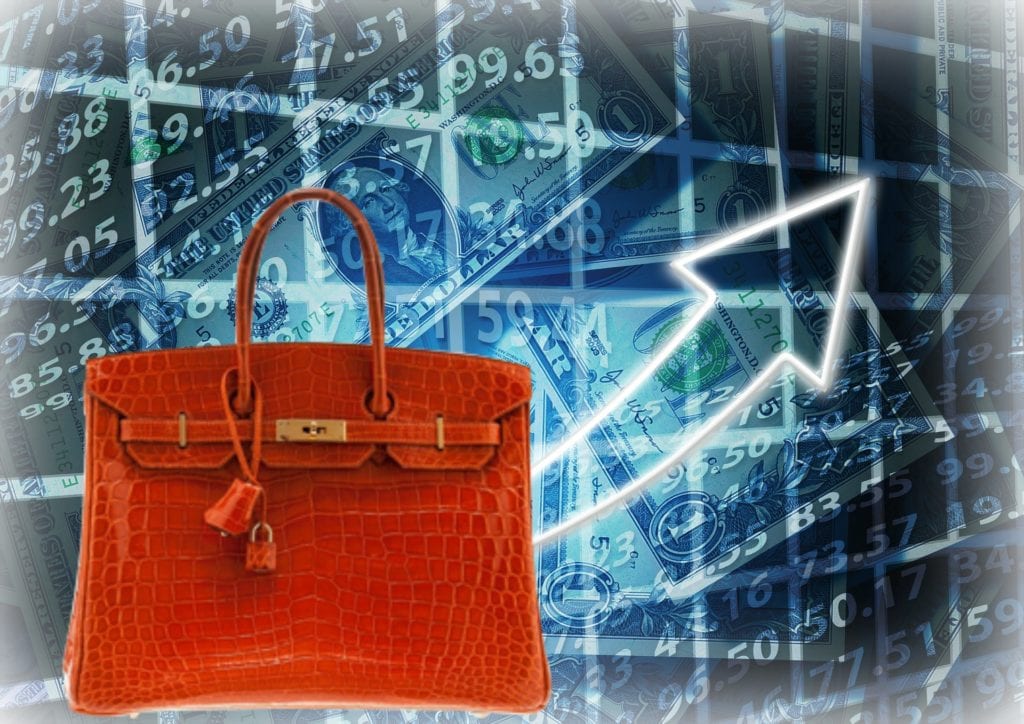 What's been a better investment than stocks or gold over the last three decades?
Hermès Birkin handbags.
The iconic designer purse, on the market since the mid-1980s, has increased in value at an annual rate of nearly 15%, according to a survey by the online site Baghunter. That compares to a an annualized increase of well under 10% for the S&P stock index – and an annualized drop of about 1.5% for gold over the same period.
How in the world can a luxury purse, which is subject to normal wear and tear, be a better investment than stocks or gold? There are several key reasons, which can provide important guidance to companies interested in maintaining margins and profits on their own lines of designer goods.
Scarcity Is Your Best Friend
Hermès has always made sure to maintain an appearance of scarcity for Birkin handbags (as the atelier's does with its equally-famous Kelly bags). You can't just walk into an Hermès store to pick up a Birkin, and the purses aren't even sold on the company's website. There's a long, convoluted process requiring a would-be buyer to first become a regular client and rack up a history of expensive purchases, while developing a relationship with an Hermès sales associate, before even being allowed to request the opportunity to buy a Birkin bag.
For years, Hermès stores supposedly maintained a months- or years-long waiting list for a Birkin, a marketing gimmick given enormous publicity on a famous episode of the TV show Sex and the City. Some insiders say Hermès no longer keeps a waiting list, while others claim there was never a list in the first place. Either way, the concepts of scarcity and exclusivity added even more to the allure and desirability of the Birkin.
It's true that hand-stitching one of these exquisite purses is a time-consuming process, but in reality, Hermès keeps the supply of Birkins artificially low. That's done an effective job of maintaining demand while allowing the design house to raise prices, year after year.
Cultivate the Celebrity Market
Unlike many designers, Hermès doesn't provide free goods to celebrities (or so everyone claims). That doesn't mean the company ignores the glitterati, who are offered extensive opportunities to purchase multiple Birkins in their choices of leathers, sizes and custom hardware. By contrast, "ordinary" clients are only allowed to purchase one Birkin every year or two. And when the opportunity finally comes, they're usually shown a single bag and told they can either buy it – or forget about being offered another for a long, long time.
Hermès ensures that celebrities who are regularly seen in public sporting designer purses get first dibs on the newest Birkin lines and models, guaranteeing millions of dollars in free publicity and creating new "It" bags on a regular basis.
Protect the Brand
Hermès is one of the most-counterfeited luxury brands in the world, and the number of fake Birkins on the market is extraordinary, particularly because the handbag has no difficult-to-duplicate logos. Rather than sit back and just count their profits, though, Hermès aggressively goes after major counterfeiting organizations. Just recently, the designer worked with the French national police to bust an operation manufacturing and marketing more than 20-million dollars a year worth of fake Birkins. And an American court recently ordered websites selling counterfeit Birkins to pay Hermès a total of $100 million in compensation.
It may be partly about the money. But the greater focus is on protecting the exclusivity of the brand and its long-term prospects.
None of these measures will guarantee that a luxury goods manufacturer will see its products accumulate in value by 15% on an annual basis. But a designer ignoring these measures is unlikely to ever see their products become a better investment than stocks or precious metals.